Triangle inequality theorem proof

Before you understand the triangle inequality theorem proof, you need to review the triangle inequality theorem and understand the shortest distance theorem.

Shortest distance theorem:

The shortest distance from a point p to a line s is the line perpendicular to s and passing through p

This is illustrated below. As you can see the shortest distance is segment PR and this is shown in blue.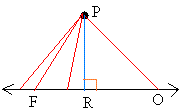 Any other segments such as segment PF or segment PO ( shown in red) is longer.

You have to understand this theorem before trying to comprehend the proof about triangle inequality theorem

Now here is ther proof:

Draw any triangle ABC and the line perpendicular to BC passing through vertex A. (This is shown in blue)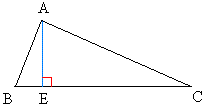 Now prove that BA + AC > BC

BE is the shortest distance from vertex B to AE

This means that BA > BE

By the same token,

CE is the shortest distance from C to AE

This means that AC > CE

Let us put it all together:

BA > BE and

AC > CE

Add the left side and add the right of the inequalities. This gives:

BA + AC > BE + CE

Now, notice that BE + CE = BC

Therefore, BA + AC > BC


Now, starting with the same triangle, draw the line perpendicular to AC passing through vertex B. (This is shown in blue)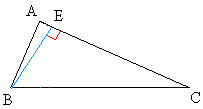 Prove that BA + BC > AC

AE is the shortest distance from vertex A to BE

This means that BA > AE

By the same token,

CE is the shortest distance from C to BE

This means that BC > CE

Let us put it all together:

BA > AE and

BC > CE

Add the left side and add the right of the inequalities. This gives:

BA + BC > AE + CE

Now, notice that AE + CE = AC

Therefore, BA + BC > AC


Now, here is your exercise: Try to prove that AC + BC > AB




---