Number theory test


This number theory test will generate 25 questions from a pool of 40 well chosen questions.

You need to answer 20 questions correctly to pass the test.This is the same as a score of 80%.

The test will cover the following basic and important topics. These topics came from the lessons found on the number theory unit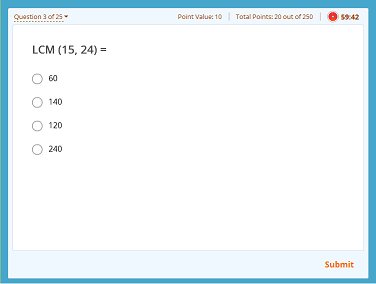 Keep in mind the followings:

You have an hour to complete the test. This is more than enough if you know what you are doing.

No answers will be provided. If you don't pass, review the lessons found on the number theory unit.

For some questions, you will need paper and pencil to solve the problem.
Don't use a calculator.
You can take the test an unlimited amount of times.
Things you need to do before you can take the number theory test!

The test is for member only, so you need to follow the steps below to take the test.
Signup with your information using the form below.
       2. Pay a small access fee.
       3. Come back right here to this page and you will see the test.
Important: You need to stay logged in in order to take the test. Once you pay the access fee and are logged in, the test will appear in the exact same location as the login page below.
Oct 17, 17 05:34 PM

Factoring quadratic equations worksheet-get some practice factoring quadratic equations
New math lessons
Your email is safe with us. We will only use it to inform you about new math lessons.