Introducing the only and first ever mathematical notepad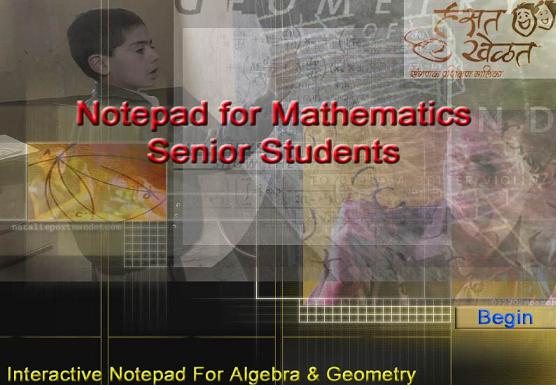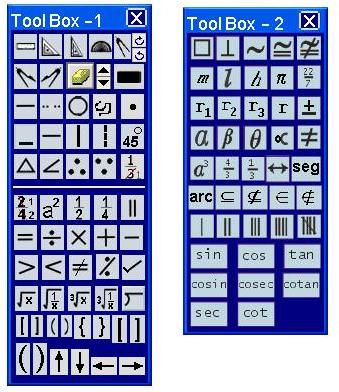 This paperless mathematical notepad is a math software that allows teachers, students, and professionals to type and edit math, practice math, create graphs with graph papers, and do homework etc...

This software is a break through in IT industries and the first in its kind in the market right now for a subject like math.

The software contains all important geometric tools such as a compass, ruler, protractor, rubber, set square, etc... to easily draw custom shapes, all signs and symbols, and all mathematicals operators.



Before I tell you more about the mathematical notepad, here is a little bit of background about the man who put this together

His name is Vinayak Barve, an engineer from India.

Education : 1. In year 1965 passed S. S. C. from SSC board, Govt of Maharashtra. His school was Aryan Education Societies High School. Girgaon, Mumbai.

2. In Year 1972 obtained Diplomas in Mechanical and Electrical Engineering from K. J. Somaiya Polytechnic, Mumbai. Board of Technical Education, Govt of Maharashtra, India.

Training and Work Experience :

In year 1972 After completing engineering diplomas, he worked for 6 Months with an engineering firm Precision Fasters Pvt. Ltd. Thane (Collaboration with USA ) a high tensile fastners manufacturer, as an trainee engineer.

Joined his father's business of Typewriting Institute and Repairs of Office Equipments.

Had a specialized training in Electric and Electronic typewriters from Hermes Precisa International SA, Yverdon, Switzerland in year 1978.

Also had a training for specialized tools for repairs from Firma Wilhelm Dreusicke GmbH & Co. KG, Rohdestraße 17, D 12099 Berlin, West Germany.

20 years in typewriters and office equipments repairs business had a good contacts and work experience at various organizations.

Last 16 years working in Information Technology i.e. from year 1993 onward till today.

Started first computer based training by CD's in local languages in year 2000 with the intension of mass education through local languages. Inaugurated by Chief Minister of Maharashtra. year 2000.

Developed various CDs in Marathi, Hindi, Gujarathi, English etc.

With these CDs, numbers of students, parents, senior citizens, govt. employees are learning computer programs for better operations



Now, his focus the past two years has been on the mathematical notepad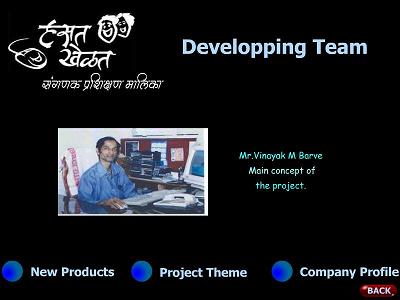 Below, see a letter from Anthony Lobo, a Manager at Tata Consultancy Services to Vinayak Barve. It is one of leading company in IT (Information Technolgy).



A letter from Tata Consultancy Services


LOGO
T A T A

December 28, 2004.

Mr. Vinyak Barve
Chief Executive,
Supergal Electronics Pvt. Ltd.
162/B, Mohan Building, J. S. S. Road,
Mumbai 400 004.
Subject : Electronic Mathematical Notepad.

Dear Vinayaksaheb,

I am most happy to share with my impression on your excellent work in Marathi and especially the versatile "note pad" which you have developed.

It was the presentation you made to the meeting of Government secretaries and Directors of the Serva Shikshan Ahhiyan a couple of months ago in Mumbai, that I first saw the concept, tried it myself and was truly impressed.

The software provides comprehensive support for students as scientific calculator, text editor and for geometric constructions. It is in fact the graphic representation of the various instruments like the set squares and compass and the handy and realistic manipulation of them all which caught my fancy.

I would most definitely recommend this CD for al the students as well students for any medium of language. It will aid in improving their skills and knowledge in mathematics.

I wish you well and hope you will continue the effort to bring more and young learners to know and love the arts and sciences.

Sincerely,

Sd/-

Anthony Lobo Manager ( HR & OD Dept ) The Tata Consultancy Services Limited Air India Building 11th floor, Nariman Point, Mumbai 400 021. Email : Anthony.lobo@tcs.com





Click here

to open a powerpoint presentation to see some of the things you will be able to do with this mathematical notepad:

In a nutshell, you can


Draw any angles using a ruler and a protractor just as done on paper


Draw lines with a distance of your choice using a ruler just as done on paper


Draw circles with a radius of your choice using a ruler and a compass just as done on paper


Type and solve your addition, subtraction, multiplication, and division problems just as done paper


Use the already made graph paper to easily make horizontal and vertical lines and any other graphs just as done on paper


Easily type and solve complex math problems that include fractions, square root signs, power,etc... just as done on paper


Use the built-in graph paper to quickly and easily draw vertical and horizontal lines


Use the built-in graph paper to quickly and easily draw slanted lines. Use our toolbox to bisect this line if you wish. Want to label your graphs with points? No problems. This can be done too!


.
Practice math on a paperless and friendly platform to improve your math skills!






None of the above can be done on microsoft word!





Sample interactive lesson #1: How to draw a line AB

Sample interactive lesson #2: How to draw a triangle ABC and a perpendicular line from point A on line BC

Sample interactive lesson #3: How to draw a circle with radius 3.5 cm

Sample interactive lesson #4: How to draw a line and an angle of 60 degrees

Sample interactive lesson #5: How to make denominators of given fractions equal

Sample interactive lesson #6: How to use square root and cube root signs



Click here to see testimonials from teachers, IT professionals, doctors, and officials who hve used the mathematical notepad!

The software include also lessons that show you how to become proficient in using your keyboard and your mouse

The software also comes in with useful tools and games that are very rare to find elsewhere!

To mention just a few,

The software has a convert tool. It is unit conversion program that will convert the most popular units of distance,such as temperature, volume, time, speed, mass, power, density, and many others

Click here to see a powerpoint presention about the convert tool

If it pleases you, create also your own custom conversion!

The mathematical notepad comes in also with a piano. Just use your keyboard to practice! That is not all!




For a limited time, you will also receive these two cool bonuses!


Bonus #1:


Become A Computer Expert In 7 Days Or Less



The essential components of PC and how each component work

Essential software you need on your PC

What to do if your computer is slow

Advanced techniques on troubleshooting your PC

And much more...

Bonus #2:


Sudoko puzzle secrets



Learn the math behind sudoku.

Construction of the sudoku puzzle revealed.

Learn how to solve sudoku puzzles with little effort.

How to properly search for the lone number.

How to eliminate the extraneous.

Using cross hatching to your advantage.

The Latin square explained.

What exactly unique grids are and how to use them.

Japanese variants untold secrets.

Sudoku history fully explained.

And much more!




Fire your paper notebooks, pencils, pen, and geometric tools with this inovative mathematical notepad and sharpen your math skills!.

The mathematical notepad along with the three bonuses are easy to download and access.Google chekout is offered as secure authorized billing agents for your safety.

You place your order with Google Checkout, who validate your credit card.

Upon successful payment you will be returned to a special page on this site to download the mathematical notepad if you have not done so yet and the bonuses.

Follow the instructions below to run the software:

1. Download the zip file by clicking on the link below and click save to save the files on your computer





2. Unzip the file: Right click on the folder and look for Extract all or Unzip all. You must not skip this step!

3. Look for EngNP_Senior and run this file.


Inportant notice: After you have downloaded your mathematical notepad, you will not be able to use all its features immediately.
Once you install it on your computer, the computer will generate a unique User Id code on your screen. Write down the User Id Code and email it to Vinayak Barve with your name and proof of purchase (order number): vinayakba@mail.com or anupvb@gmail.com

You could also call at 022-23802634 in India. After verification, Vinayak Barve will email the password to enter as soon as possible

We are sorry for any inconvenience this will cause you. However, we have put this system in place to avoid piracy of the mathematical notepad software

If you do not want to pay immediately, you can always download the trial version and test the water before you buy





When you are ready to use the full version, come back here and use Google Checkout to buy the software and email Vinayak Barve to get the User Id Code



The mathematical notepad is an executable file, approx. 120 MB. The computer expert book is 25 pages PDF file, approx 250 kb

Downloading time may vary depending upon your computer's Internet connection.





The bonuses are in the Adobe PDF file format. If your computer doesn't have the Adobe Reader software,click here to install it for free.



Support and/or any questions you may have is only a phone call away. 781-551-4476. Antime after 6PM since I teach during the day. Or you can contact me here using my contact form

Vinayak Barve : vinayakba@gmail.com, / vmbarvevmb@yahoo.co.in
Tel No. 022-23802634 ( Mumbai, India ) Anup Barve : anupvb@gmail.com