Fundamental counting principle

We will introduce the fundamental counting principle with an example. This counting principle is all about choices we might make given many possibilities.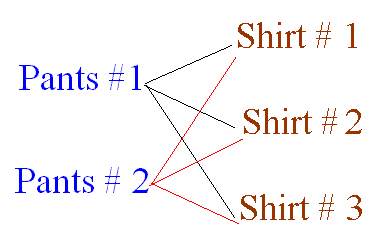 Suppose most of your clothes are dirty and you are left with 2 pants and 3 shirts.
How many choices do you have or how many different ways can you dress?
Let's call the pants: pants #1 and pants #2
Let's call the shirts: shirt #1, shirt #2, and shirt #3
Then, a tree diagram as the one above can be used to show all the choices you can make
As you can see on the diagram, you can wear pants #1 with shirt # 1. That's one of your choices.
Count all the branches to see how many choices you have.
Since you have six branches, you have 6 choices.
However, notice that a quick multiplication of 2 × 3 will yield the same answer.
In general, if you have n choices for a first task and m choices for a second task, you have n × m choices for both tasks
In the example above, you have 2 choices for pants and 3 choices for shirts. Thus, you have 2 × 3 choices.
Another example:
You go a restaurant to get some breakfast. The menu says pancakes, waffles, or home fries. And for drink, coffee, juice, hot chocolate, and tea. How many different choices of food and drink do you have?
There 3 choices for food and 4 choices for drink.
Thus, you have a total of 3 × 4 = 12 choices.

A nice fundamental counting principle quiz is given below so you can verify if this lesson is clearly understood.


Mar 15, 23 07:45 AM

To learn about rational numbers, write their decimal expansion, and recognize rational numbers that are repeating decimals and terminating decimals.

Mar 13, 23 07:52 AM

Learn how to get the area of a trapezoid using a rectangle and a triangle, the formula, and also when the height of the trapezoid is missing.