Basic operations

There are 4 basic operations. The graphic organizer below shows what these operations are along with some other important terms.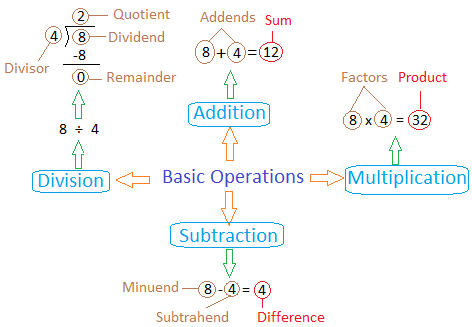 Teachers! Use this graphic organizer to easily help your students understand this important math concept.
Basic operations key terms explained

Addition terms
Addends:  the numbers being added.

Sum: the answer to the addition problem.
Subtraction terms
Minuend: the number you are subtracting from.
Subtrahend: the number that is to be subtracted from the minuend.
Difference : the answer to the subtraction problem.
Multiplication terms
Factors: the numbers being multiplied.
Product: the answer to the multiplication problem.
Division terms
Dividend: the number you need to divide.
Divisor: the number you will use to divide.
Quotient: the answer to the division problem.
Remainder: a leftover when the dividend could not be divided evenly.
Interesting math quiz about basic operations
Sep 17, 23 09:46 AM

There are many ways to find the factors of 20. A simple way is to...

Jun 09, 23 12:04 PM

The SAT Math section is known for being difficult. But it doesn't have to be. Learn how to be prepared and complete the section with confidence here.