SOHCAHTOA
SOHCAHTOA is a very useful mnemonic that can help students remember the sine ratio, cosine ratio, and the tangent ratio of the three basic trigonometric functions sine, cosine, and tangent.
SOH : Sine = Opposite / Hypotenuse 
CAH : Cosine = Adjacent / Hypotenuse 
TOA : Tangent = Opposite / Adjacent 

Below, we show a nice figure that will help you greatly to remember sohcahtoa.
Opposite means opposite to the angle θ and adjacent means adjacent or next to the angle θ.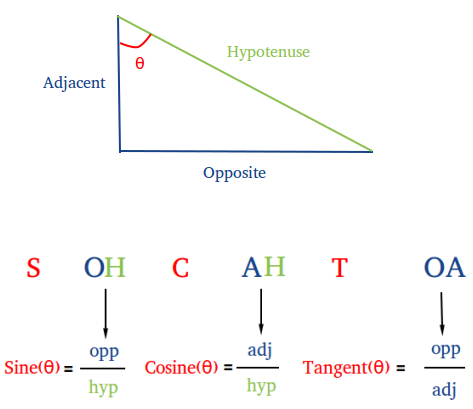 You could also use the following mnemonic to remember the trigonometric ratios.

" Some Old Hog Came Around Here and Took Our Apples."
An example showing how to use sohcahtoa
Sin(θ) = 6/10 = 0.6
Cos(θ) = 8/10 = 0.8
Tan(θ) = 6/8 = 0.75
Dec 03, 22 12:47 PM

Learn to identify 6 types of triangles based on their sides or angles and 7 more types based on both their sides and angles.

Nov 18, 22 08:20 AM

Easily learn to construct a box and whiskers plot for a set of data by using the median and the extreme values.