Solving multiplication equations
When solving multiplication equations, they will have this form: ax = c or bx = d, or cx = f, etc
Recall that ax + b = c is a linear equation
Thus, the equation ax = c is a linear equation with b = 0
You can also solve ax = c in one step.
When solving one step equation of the form ax = c, just divide both sides by of the equation by a.
Example #1: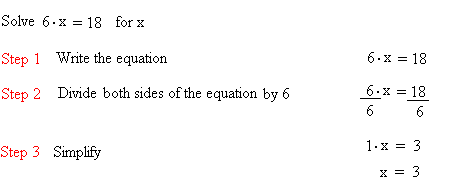 Example #2:
Before you look at example #3, I strongly encourage you to review
multiplication
and
division
of
fractions
Example #3:
Study example #3 carefully and remember that anything divided by the same thing is 1. That is why 2/5 divided by 2/5 is 1.Also, it is perfectly OK to write 10 as 10/1 because anything divided by 1 gives you the same thing.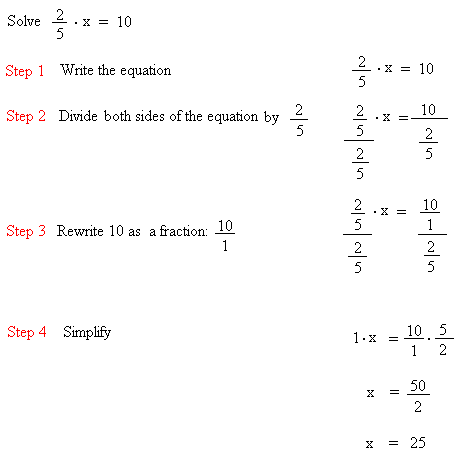 Solving multiplication equations quiz. See how well you can solve them.



---
Linear equations calculator
Easily solve equations of the form ax = c with the click of a button!
May 19, 19 09:20 AM

Basic math review game - The one and only math adventure game online. Embark on a quest to solve math problems!
Check out some of our top basic mathematics lessons.

New math lessons
Your email is safe with us. We will only use it to inform you about new math lessons.